It's here! The ISA Global Cybersecurity Alliance (ISAGCA) has officially released its first work product—a user-friendly overview of the ISA/IEC 62443 Series of Standards, the world's only consensus-based automation cybersecurity standards.
"Quick Start Guide: An Overview of the ISA/IEC 62443 Standards," now available for download by filling out a form at isa.org/cyberguide, provides a high-level view of the standards' objectives and benefits—as well as how users in various security roles can navigate them. The guide explores how and why IT and OT/ICS need unique types of protection against cyber threats, offers the latest recommendations on patch management, and helps users understand how to evaluate the security of industrial automation and control systems.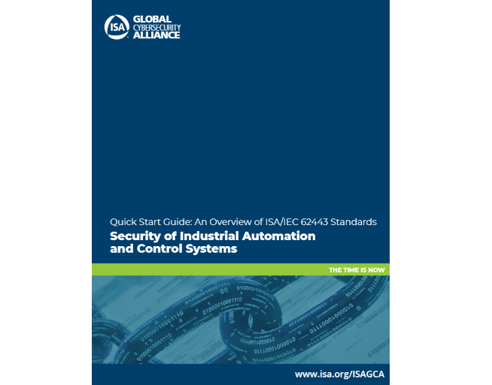 One of ISAGCA's goals is to encourage the wide adoption of the ISA/IEC 62443 Series. ISAGCA's Advocacy and Adoption work group coordinated the development of this guide, which was written by Johan Nye and reviewed by the ISA99 committee. Nye is an independent consultant specializing in industrial control systems and cybersecurity. During his career spanning more than 38 years, Nye has designed ICS system architectures, created company standards and policies, implemented major ICS projects, supported ICS site engineers, and contributed to the design of several ICS products.
Nye also recently led a webinar on the ISA/IEC 62443 Series, discussing the ins and outs of the standards as well as their applications for different roles within the security environment.
If you'd like to download "Quick Start Guide: An Overview of the ISA/IEC 62443 Standards," please visit isa.org/cyberguide and fill out the form to indicate your interest. We'll send you a link to a .pdf file of the guide that you can download or print out and share with your team.