If you missed the Virtual Cybersecurity Standards Implementation Conference (VCSIC), or if you enjoyed it and want to examine some of the topics it covered at an even closer range, the organizers have something more in store. Later this month, a new conference will discuss adversary cybersecurity attacks, purple teaming, ransomware hunting, and more.
You're invited to join the first-ever Virtual Cybersecurity Standards Implementation Conference Plus (VCSIC+) on 25 August 2020. Hosted by the International Society of Automation (ISA), VCSIC+ is geared toward those who work in operational technology (OT) cybersecurity and are interested in where the future may take their careers.
The conference will feature several talks on the latest developments in the field of OT cybersecurity, with question-and-answer sessions following each presentation. Join in vital conversations that will help drive the industry forward.
VCSIC+ includes some of the most innovative thought leaders in industrial control system cybersecurity.
The day will kick off with a keynote speech from Jim Gillsinn, principle industrial consultant at Dragos, a founding member of the ISA Global Cybersecurity Alliance (ISAGCA). Michael Piccalo, OT principal engineer at Forescout Technologies, will follow with a presentation on hunting ransomware on a factory industrial control system (ICS) network. Pak Ho Chan; principal consultant and practice manager, APAC at Critical Information Systems and Cybersecurity (CIC), Thales; and Nicole Wong, principal consultant at Thales, will discuss improving the cybersecurity posture of OT environments using purple teaming. Finally, Curtis Simpson, CISO at Armis, will give a presentation on how and why so many IoT vulnerabilities remain unaddressed.
"We wanted VCSIC+ to dive deep in addressing the most pressing issues in cybersecurity today," says Morgan Foor, the ISA events manager who was instrumental in organizing the conference. "Our speakers are some of the most knowledgeable people in the world on the topics of ransomware hunting, the OT hackers' perspective, and the cybersecurity of industrial control systems. We are excited to be able to offer conference attendees such a talented roster."
Spend your day with these top experts as you learn about some of the most recent cybersecurity threats faced by industrial and critical infrastructure organizations. You'll leave with a strengthened vision of how to keep your systems resilient now and in the future.
Next Steps
The virtual conference will take place on 25 August 2020. To register or to learn more, visit www.isa.org/vcsicplus. The cost is 75 USD per ticket (60 USD for ISA members). Use the code MEMBER at checkout to receive the membership discount—your ISA membership will be validated after registering.
ISA also offers a robust suite of other virtual events, addressing a range of topics from IIoT and digital transformation to process control and instrumentation. Visit www.isa.org/virtualevents for details on ISA's virtual events program.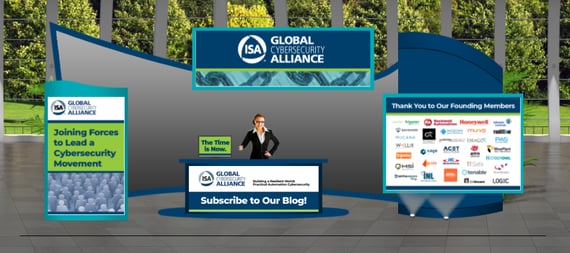 The ISAGCA booth at VCSIC, an example of an ISA virtual event sponsorship benefit
If you're interested in sponsoring a virtual event, please contact one of ISA's event specialists below for more information:
Elena Pitt
+1 919-323-4023
epitt@isa.org

Richard Simpson
+1 919-414-7395
rsimpson@isa.org

Chris Nelson
+1 919-990-9265
cnelson@isa.org